---
Aug 12 | 2022
Gulf State Targets Five-Fold Increase in Renewable Energy Capacity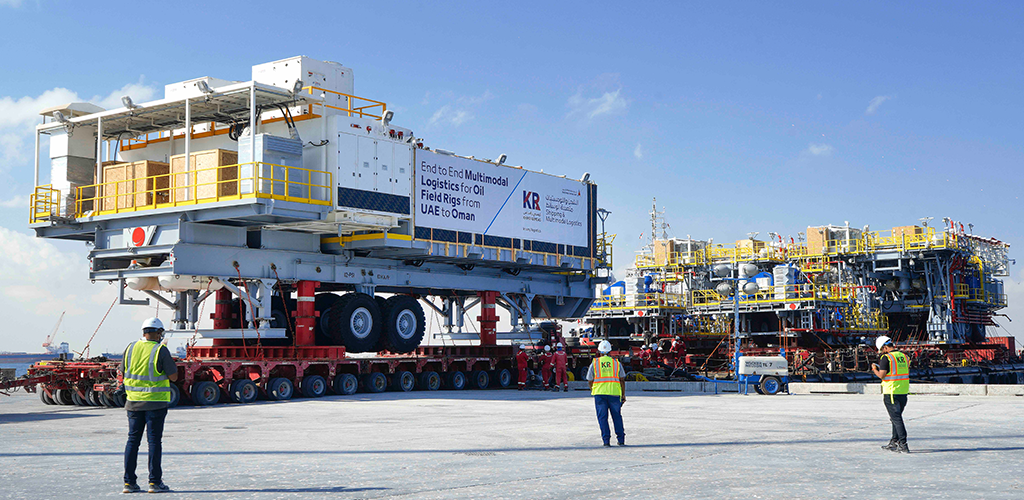 Photo: Khimji Rhamdas Shipping

From Breakbulk magazine, September/October 2022 issue
The launch in January of the 500-megawatt (MW) Ibri II solar power plant in Oman's northwestern Al Dhahirah governorate marked a major milestone in the sultanate's ambitious plans for expanding its renewable energy capacity. Taking just 13 months to build, the US$417 million plant, developed by a three-member consortium led by Saudi's ACWA Power, is Oman's first solar independent power project, or IPP, to connect to the national grid, and the first to be inaugurated under the country's new national renewable energy program.
Some 1.5 million bifacial photo-voltaic panels, supplied by China's Jolywood, were installed across a 13 million-square-meter plot adjacent to ACWA Power's 1.5-gigawatt (GW) Ibri natural gas-fired IPP, about 200 kilometers west of capital city Muscat.
The consortium will produce clean electricity over a 15-year period for the Oman Power and Water Procure-ment Co., or OPWP, the state-owned agency responsible for ensuring power and water production meets domestic demand.
As a major plank of its Vision 2040 policy to pivot the economy away from fossil fuels and towards more sustainable sectors, Oman aims to have 11 percent of its electricity demand produced from renewable sources by 2025, and 30 percent by the end of the decade. Just four years ago, it was almost zero.
"Ibri II is a remarkable achieve-ment that delivers on the national priorities set by Oman Vision 2040, which entail environmental conservation, utilization of natural resources, the development of governorates and the integration of the private sector," said Yaqoob bin Saif Al-Kiyumi, CEO of the OPWP.
"Ibri will be a turning point for launching similar projects in the field of renewable energy."
According to the OPWP, the next solar plants to be installed will be the Manah I and Manah II IPPs in central Ad Dakhiliyah governorate. A reported US$600 million has been allocated for the two 500-MW facilities, slated to be up and running by the end of 2024.
WIND FARM AMBITIONS SET
An additional US$300 million has been earmarked for wind energy projects with a combined installed capacity of 300 MW at Jalan Bani Bu Ali in South Sharqiyah governorate and at Duqm in southern Al Wusta governorate.
Oman's first utility-scale wind farm, the Dhofar Wind Power Project, was brought online by Abu Dhabi-based developer Masdar in 2019. The 50-MW plant in the southern-most Dhofar governorate close to the breakbulk-handling port of Salalah comprises 13 GE-made turbines.
The construction of these and other planned projects would lift Oman's renewable capacity from 500 MW this year to 2.7 GW by 2027, the OPWP said in its latest 7-year outlook statement.
"There is huge potential for project logistics," said Salim Ahmed, CEO of Oman Integrated Logistics Services. "We see an aggressive approach towards alternative green energy solutions by the authorities, and there is no doubt you will see Oman leading the GCC and the region in implementing more renewable projects in the future."
Blessed with year-round sunshine and strong winds ideal for deploying world-scale renewable projects, and strategically located between key European and Asian markets with a coastline stretching 3,165 miles from the northern Hormuz Strait to the border with Yemen, the sultanate is ready to capitalize on its clean energy potential.
According to Maryam Ahmed Al Nofli, lecturer at the University of Technology and Applied Sciences – Shinas, Oman has one of the highest levels of solar energy density in the world. It also boasts a significant wind regime, especially along the southern Arabian coast and mountains north of Salalah.
"The available solar energy in Oman has the ability to supply enough electricity to cover the domestic electrical needs of the country while exporting power as well," Al Nofli told
Breakbulk
.
"Wind speeds in these places are equivalent to those seen at inland European sites with a substantial number of wind turbines in operation. Wind speeds are maximum in the summer months, which correspond to peak periods of electricity demand in Oman."
ALTERNATIVE ENERGY SOURCES EXPLORED
Favorable environmental factors are also luring developers of green ammonia and hydrogen projects.
InterContinental Energy and EnerTech, for example, are develop-ing what is being billed as the largest renewable fuels production facility in the Middle East. The US$30 billion green hydrogen venture is planning to deploy 25 GW of renewable energy capacity – equivalent to thousands of wind turbines and solar panels – across a 6,500-square-kilometer tract of land in Al Wusta and Dhofar.
The project would produce an estimated 1.8 million tonnes per year of zero-carbon green hydrogen, which could be used as feedstock for up to 10 million tonnes per year of green ammonia.
"The strategic importance (of diversifying) and (Oman's) geographical location make it feasible to harness renewable energy technolo-gies on both small and large scales for further economic development. It not only helps to reduce reliance on fossil fuels, but helps to create a cleaner and sustainable environment," Al Nofli said.
In clean energy analyst BloombergNEF's latest Climatescope report, an assessment of energy transition investment opportunities, Oman was ranked 15th among emerging nations in the power sector, the highest-placed Gulf Cooperation Council member.
The analyst noted in its report summary that financial incentives such as the government-led subsidy for rooftop solar for residential customers and support for foreign investment could spur renewable energy uptake in the country.
WATER, WATER EVERYWHERE
Another sector set for expansion in Oman's Vision 2040 plans is water desalination.
While arid landscapes and basking sunshine provide perfect conditions for solar buildout, the lack of freshwater sources combined with aggressive industrialization and population growth is placing huge strain on the country's ability to produce potable water.
In a bid to meet future demand, the OPWP has plans for a string of new, large-scale desalination plants and distribution networks, a construction drive that is expected to provide break-bulk and project cargo with a raft of new cargo-carrying opportunities.
The most recent to break ground is the Barka V Independent Water Project, or IWP, located about 50 kilometers west of Muscat in South Al Batinah governorate. Developer GS Inima, a unit of Korean EPC contractor GS Engineering and Construction, said Barka V would have a capacity of 100,000 cubic meters per day, with operations scheduled to begin in mid-2024.
Barka IV, Oman's largest desalina-tion plant with a capacity of 281,000 cubic meters per day, began operations in 2019.
"Certainly this is one of the most important sectors for our company. With Oman's pledge to update and improve the country's distribution networks by 2040, the sector will definitely be a major contributor in the coming years," said Arijit Das, head of inland logistics and shipping at Omani-based breakbulk specialist Khimji Ramdas Shipping.
"Every project (in the government's plans) will have different layers of implementation, starting from the construction phase to the setup of the main distribution pipelines and pumping station build up, to the network of smaller dimension pipelines to ensure reach of the purified water to each and every household. This will lead to immense potential for logistics.
"Khimji Ramdas Shipping has supported the buildout of several world-scale water distribution and desalination projects, handling more than 350,000 cubic meters of ductile iron and mild steel piping, butterfly valves and other heavy components.
Oman's strong post-pandemic rebound, helped by the higher oil price environment, could further support industrial buildout.
Real GDP rose by 3 percent last year, according to the International Monetary Fund, with growth of 5.6 percent projected for 2022, the highest rate for a decade. "Favorable oil prices and continued fiscal consolidation efforts are expected to generate substantial fiscal and external surpluses, and support higher growth," the IMF said in a June report.
Sidebar:
DEEPWATER HUBS SUPPORT ENERGY TRANSITION
Oman has set its sights on becoming one of the region's major shipping and logistics hubs.
Breakbulk movers can already rely on several deepwater ports capable of handling industrial-sized project cargo, such as Duqm and Salalah on the Arabian coast and Sohar on the northern coast.
Upgrades and expansions at all three facilities will boost capacity and improve cargo flows even further.
At
Sohar
, Oman's second-largest deep-sea port, breakbulk handler
C. Steinweg Oman
is adding 27 hectares of storage space to the port's general cargo terminal to meet rising demand for minerals and other bulk items.
CSO, a unit of C. Steinweg Group, has a long-term concession to handle all breakbulk, project cargo, dry cargo and roll-on, roll-off stevedoring operations at Sohar.
At
Duqm
, meanwhile, state-owned Oman Oil Marketing late last year launched a new bunker terminal to meet demand from the growing number of vessels being lured towards the port.
Duqm lies within the Special Economic Zone at Duqm, or SEZAD, home to some of Oman's largest energy projects and the most likely site for large-scale solar and wind energy buildout.
"You see lots of project cargo happening through Duqm, because that is where you have most of the plants. The oil plants are there, the hydrogen plant is going to be there – most of the big mega-projects are happening in that area," said Salim Ahmed, CEO of Oman Integrated Logistics Services.