---
Feb 07 | 2022
Rising Demand to Put More Pressure on Capacities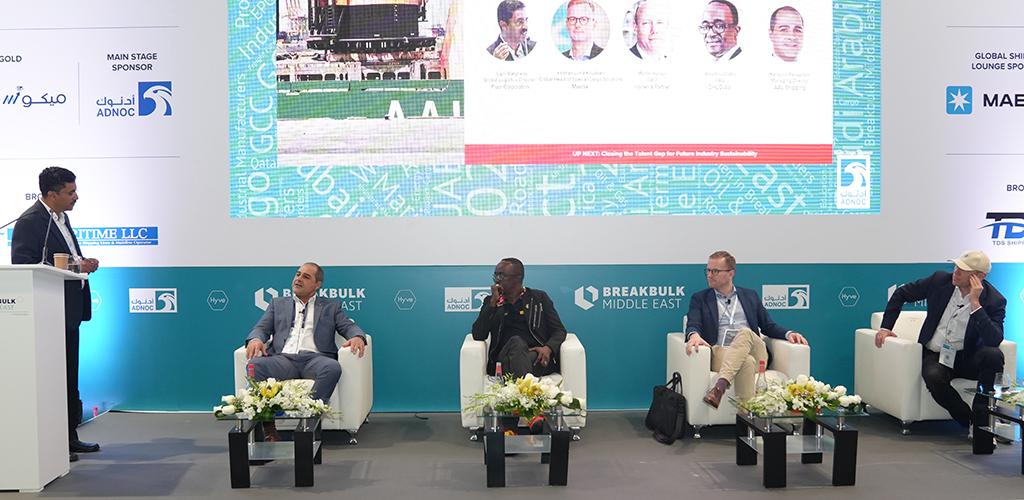 The project industry has been contending with sky-high freight rates for almost a year, with little consensus on when they will return to "normal." Capacities meanwhile have been at a premium, with little room for manoeuvre.
What are the prospects for change? Are their opportunities amid the high-price environment? And what are some of the strategies for navigating the situation?
Those were some of the questions our expert panel tackled during the session: "Managing Rates and Capacity: Outlook, Key Drivers and Remaining Competitive," which took place on the first day of Breakbulk Middle East 2022 in Dubai.
Cyril Varghese, head of global logistics at U.S.-based construction firm Fluor, and the panel event moderator, kicked off the discussion by reminding delegates that demand for capacity is on the rise, driven by rapid offshore wind development, higher commodity prices that are supporting oil and gas projects, and a new mining super cycle.
"We see quite positive trends in terms of the demand for cargo going up, certainly for the next couple of years at least," Varghese said.
A global shortage of containers is pushing rates, with multiple new build orders from operators unlikely to come online in 2022. And while those rates remain elevated, MPV tonnage is getting pulled into the lucrative container market.
As a result, this year is likely to be another challenging one, panelists agreed.
"Everybody expects a correction in the container market, and once the correction comes in, and once we see from the order book new containers coming into the market, I think less and less focus will come on the MPVs from the container operators," said Kyriacos Panayides, CEO at AAL Shipping. "But at least for the short term, there will still be demand from the container operators, and we do not see this changing in the short term."
MPVs meanwhile have been hampered by a lack of shipyard capacity, not just for new builds but for repairs to an aging fleet. Martin Harren, CEO of Harren & Partners – SAL Heavy Lift, said new tonnage in the MPV market is not expected for another two years.
"Every shipowner has ambitions to do new builds for very good reasons. The first of course is to replace old tonnage. We are the same, and hopefully we can get delivery in 2024," he said.
In the meantime, Harren offered some valuable advice for shippers on booking capacity, especially for projects of more than 500 tonnes. "My recommendation would be to book as early as possible. Maybe one year ahead would be sufficient I would say. Anything shorter is at risk."
Issues for Forwarders?
Kristian Lund Knudsen, global head of special cargo solutions at A.P. Moller – Maersk, dismissed fears that amid the high-price environment, carriers in the future could cut out forwarders and deal directly with shippers. Some see the shift from manual to digital, accelerated by the pandemic, creating an environment in which shippers bypass forwarders and go directly to carriers.
"This is a narrative that has been very popular in the media and it creates a lot of attention and a lot of heat and I think quite frankly it has been blown out of proportion," Knudsen said.
"We are not moving towards a world where we do not want to deal with freight forwarders, or where there will be no room for freight forwarders, because I believe there is a very important space for freight forwarders and there is a very important role that they play in the market."
Amadou Diallo, head of DHL Global Forwarding Middle East & Africa, said the cash flow situation for freight forwarders has been very challenging.
"We have all tried to find inventive ways of being able to manage our supply invoices and manage our fluctuations we have seen in the market," the executive said, pointing to hedging as a tactic to managing the situation.
So how can the industry manage high rate? For Varghese, it is a question of relationships across the supply chain.
"The relationships between stakeholders is not a one-way street. I cannot expect to treat the shipping lines like slaves when the rates are down and when the choices are plenty. It is a relationship that is built over multiple years," the Fluor executive said.
"But at the end of the day, what will keep all of us employed will be the relationships, the personal rapport that we've been able to build over the last few years. Through the pandemic, and through situations where the carriers have not been doing so well for 10 years, these relationships are important going forward into 2022."