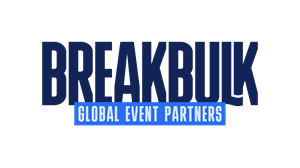 Brand awareness is essential in the project cargo business and Breakbulk events are the place to promote your brand. With our Global Event Partners program, Breakbulk offers loyal exhibitors major promotional power.

If your company exhibits at all three Breakbulk events, you're eligible for Global Event Partner status. Repeat, year-round visibility to cargo owners, government officials, freight forwarders, ocean carriers and thousands of other industry professionals ensures your brand is in the forefront in each event region.
Global Event Partners have exclusive branding of the entire registration process from registration online, digital promotion, confirmation emails and onsite badge collection.


PRE-EVENT
Branding on emails announcing event registration
Your logo on each online registration page
Your logo on registration confirmation emails
ONSITE
Exclusive branding in Breakbulk registration areas, including self-service kiosks, registration desks and intro spaces
Floor cling with the GEP logo next to your stand
GEP logo placed next to your company name on the exhibitor list, included on the printed and online floorplan and exhibitor locator
BETWEEN EVENTS
Your logo listed on all cross-sell emails
Personalised GEP email banner promoting your company's participation for emails, social media and your website
Learn more about exhibiting at multiple Breakbulk events.