---
Mar 05 | 2020
We reflect on another action-packed edition of the region's top project cargo event.
Once again, Breakbulk Middle East continues to be the region's most effective way to win new project cargo business.
Highlights from Breakbulk Middle East 2020
Breakbulk Middle East 2020: The headline stats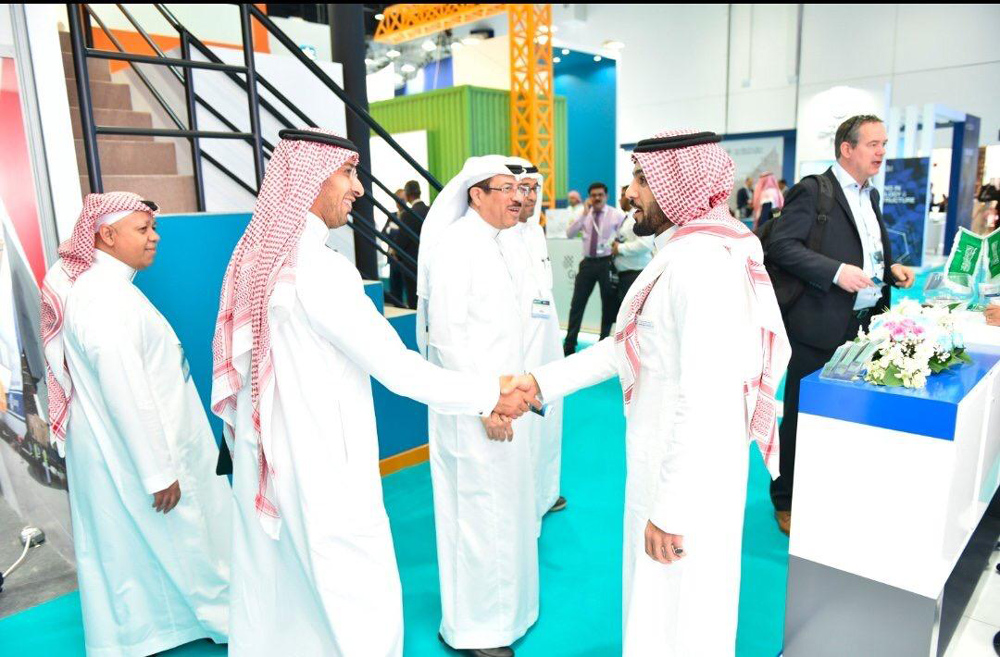 2020's event welcomed
3,444 visitors
103 exhibitors
1,663 companies
72 countries were represented at the last event edition.
While the bulk came from the UAE, visitors also travelled to the event from the wider GCC and Middle East region, India, Africa, Europe, Asia, and North America. It's a truly international event.
Visitors represent the Middle East's chief cargo owners: government ministries, private sector oil & gas companies, global-scale EPCs were all in attendance.
The Breakbulk Masters programme shows the calibre of companies coming to network with BBME exhibitors.
Breakbulk Masters connects VIP cargo owners with project cargo's finest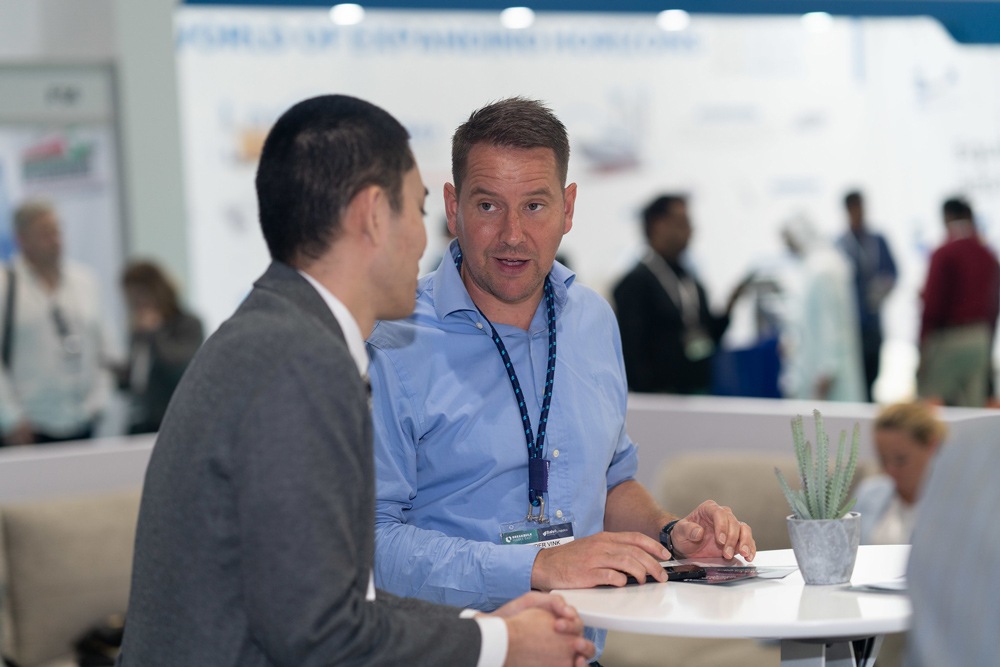 Making its debut at Breakbulk Europe 2019, Breakbulk Masters made its Middle East debut this year.
Masters is an exclusive global network of senior project cargo players. It represents transport, logistics, and procurement professionals and freight owners. The goal is to bring them together with freight handlers and logistics service providers for learning and networking.
Major EPCs, manufacturers, and oil companies taking part included: ABB, Abengoa, ADNOC, AECOM, Andritz, Baker Hughes, Etihad Rail, Fluor, Gazprom Neft, GE Gas Power, Lamprell Energy, Linde, McDermott, Petrofac, Siemens, Sumitomo, TechnipFMC, Tecnicas Reunidas, Vallourec.
The share of Masters participants by sector was:
• Government – 48%
• EPCs – 23%
• Manufacturers – 15%
• Oil & gas – 9%
• Other – 3%
• Metal – 2%
Breakbulk Middle East celebrates women in the industry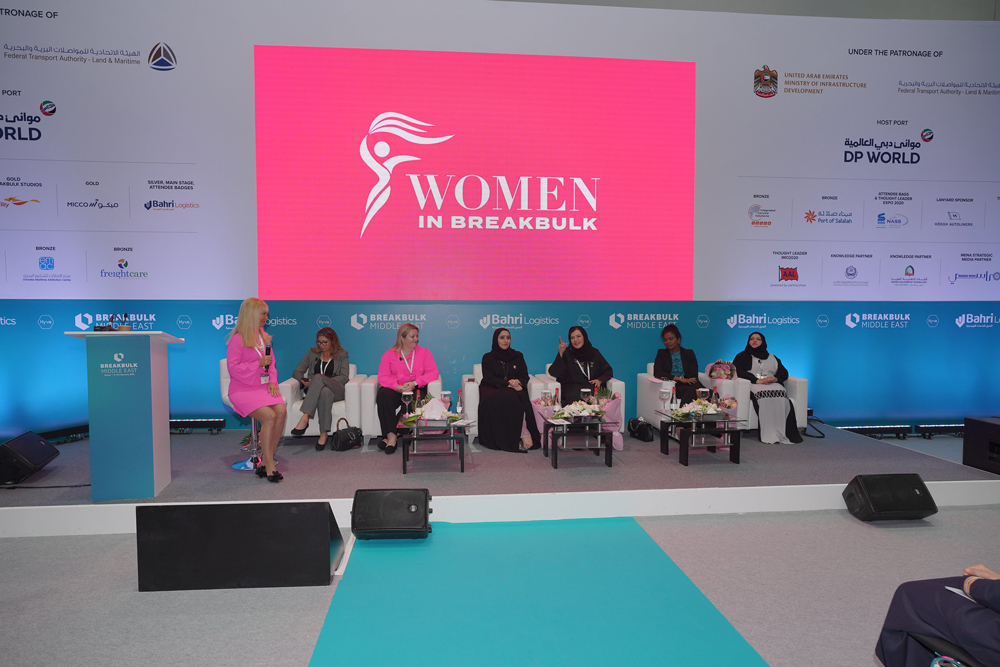 Project cargo is a predominantly male-dominated industry. Breakbulk is here to change that.
Women in Breakbulk was organised for the first time at Breakbulk Middle East this year. We were keen to shine a spotlight on the enormous contribution women make to project cargo and highlight how they are involved in every aspect.
Helping us put on the event were our partners WISTA Arabia and Arab Women in Maritime Association (AWIMA).
Guest speakers at Women in Breakbulk were global and Middle Eastern pioneers, including:
Dr. Aysha Al Busmait – IMO Goodwill Ambassador and Corporate Communications Director, UAE Federal Transport Authority – Land & Maritime
H.E. Eng. Hessa Ahmed Al Malek – Executive Director, Federal Transport Authority for Land & Maritime, UAE
Jasmin Fichte – Managing Director, Fichte & Co Lega/Founder of WISTA UAE Branch
June Manohoran – Director, Lukoil Marine Lubricants (MENA)
Noura Alshamsi – Head of Community Engagement, Maritime Career Centre, The Arab Academy for Science, Technology & Maritime Transport – Sharjah Branch
Sue Donoghue – Managing Director, Project Director, DHL Global Forwarding – King of Saudi Arabia, DHL Global Forwarding – Industrial Projects
With 53 participants, who made a potential 1,387 connections, once more displaying the power of events for forming important relationships.
Education Day: Where tomorrow's project cargo leaders are made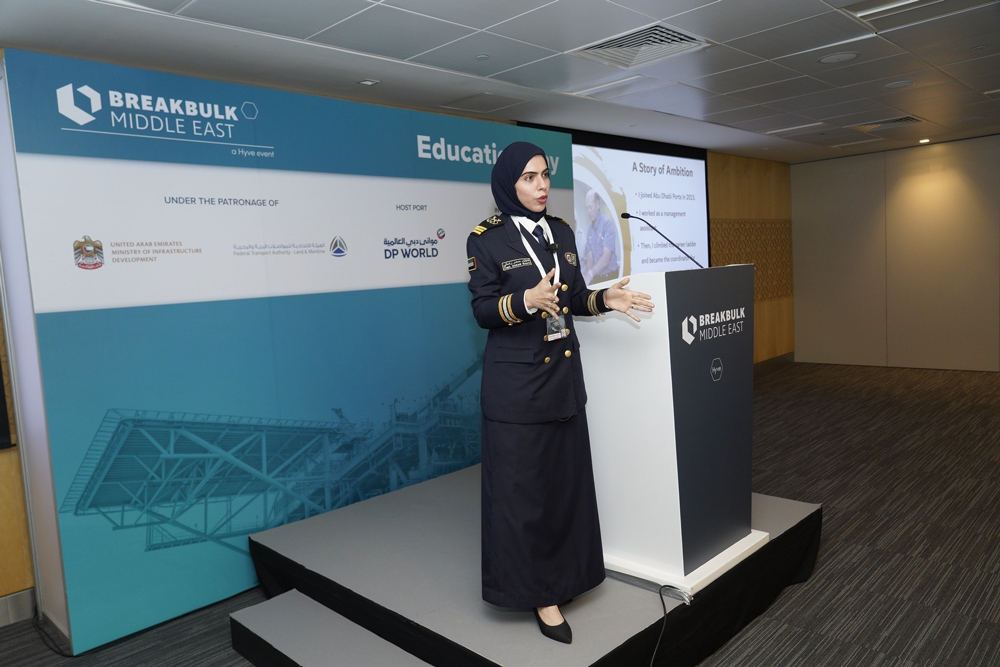 We gave 122 students and young professionals the opportunity to learn industry basics across a half-day session, then tour the exhibition floor as part of Breakbulk's commitment to nurture talent at a grassroots level.
Helping their development was the Day's third sessions "The Exciting World of Ship Chartering", led by Fusion Academy of Excellence Director Krishnan Subramaniam.
Here, attendees were offered the basics of chartering, career entry points, qualifications, certifications, and career paths for industry novices.
The Education Day is a key feature of Breakbulk Middle East. It isn't just for young up-and-comers either. Education never stops, so we're proud to offer deep insights and best practice learnings from around the industry.
One of the Education Day's standout sessions was chaired by Captain Sahar Rasti, CEO of SJR General Group.
At "Words for the Future", Capt. Rasti shared her immense knowledge, aspirations, and experiences as the first Emirati Female Captain working in the maritime sector.
A key takeaway from Capt. Rasti's talk was the importance of being self-motivated – something critical in such a patriarchal society like the Middle East.
Looking forward to Breakbulk Middle East 2021
We're already planning ahead for BBME 2021, taking place between 9-10 Febraury 2021 at the Dubai World Trade Centre.
Stay tuned for more updates at Breakbulk's fastest growing event.
Want to talk about what to expect at next year's event?
Contact our team today
.