---
Jan 18 | 2020
An interview with Arne Hubregtse, Executive Board Member, Spliethoff Group
BREAKBULK MIDDLE EAST PREVIEW
:
Spliethoff Group has grown significantly during a time when other carriers have struggled. Will you bring us up to date on your recent acquisitions and where your fleet stands today? What factors have contributed to your success?
We bought 11 second hand vessels and ordered 10 newbuild vessels as a group. This was to replace old tonnage and to expand the fleet in areas of interest and we were able to take hold of opportunities when they occurred. The opportunities were with second hand vessels and are an expansion in the project cargo & heavy lift part of the fleet.
We tried to differentiate ourselves from competition through a high service level and reliability of services toward customers by operating well maintained vessels and an extensive commercial and operational network. Customers value that in certain market segments, and this is one part of the success. For these niche markets we aim to operate sufficient vessels — not too many, not too few — and this enables us to remain competitive.
You will be participating in the IMO 2020 panel in February at Breakbulk Middle East. Tell us about how Spliethoff Group's fleet will comply with the regulations. How did you weigh the decision between scrubbers and low sulphur fuel, and how will your choice benefit both you and your customers?​
For the coming 10 to 15 years, there are three options: LNG, compliant fuels and scrubbers. We evaluated the three options and had the following thoughts:
Retrofitting LNG is very complicated and not a viable option for us. In addition, the total contribution to greenhouse gas emissions is slightly worse using LNG than high sulphur fuel in combination with a scrubber.
Compliant fuel causes air pollution, which is still a big problem, and production of compliant fuel has higher CO2 emissions. The removal of sulphur with a scrubber is a much more efficient solution than doing it in a refinery.
We evaluated the environmental impact of the use high sulphur fuel with scrubber technology as the most environmentally friendly.
On balancing the above points, we decided as a group to install scrubbers and use high sulphur fuel. The investment we have made is clear, and through installing scrubbers, we have eliminated a lot of risks, e.g. risks of price on transport costs in the future and of incompatible low sulphur fuels. For instance, if you blend them, what is going to happen? What chemicals will end up in LSF and could result
in engine damage breakdown in the future? The decision we made was from both a risk management and environmental perspective.
How did Spliethoff help prepare its customers for rising costs associated with IMO 2020 compliance? What feedback have you received from shippers?​
We noticed in the past half year that this is becoming important, so we made an animation on our website explaining our choices to our customers and the wider market. There will be a cost increase for them to be compliant and this will be charged to the customers, which is what we have indicated in articles, letters and animation movies. We are now in discussions on new contracts to cover the costs of compliance.
Nobody is happy with paying more, but they understand it is going to happen across the industry. Everyone is discussing this topic and understands what is coming. The ship owner cannot take the full cost of compliance on themselves for buying compliant fuel/fitting scrubbers, etc., so it is a cost that has to be shared.
As the industry moves into 2020, what are your biggest concerns? How would you describe the industry outlook for ocean transport in the coming year?
The 2020 sulphur cap has come with a lot of preparation time: companies anticipated the change and are ready and prepared to start burning compliant fuel. We have all the procedures in place for this, so the sulphur cap is not our biggest concern going into 2020.
The biggest concern for us as a group is what emission trading and emission pricing is going to bring to the industry and how will that affect us? As a shipping company, we embrace the objectives of reduction of emissions by shipping, and we work hard to achieve these, but the biggest question is what the system and regulations will look like. Will it be a taxation or trading scheme and what will the impact be for us? The environmental impacts on the industry are by far the biggest issue going into 2020.
For companies that are less prepared for the IMO 2020 regulation, the change will mean somewhat bigger trouble.
Tell us about your newbuild contract with Mawei Shipyard. How will these new vessels be different from what's currently available? What markets will they serve? What prompted this investment?
These vessels will offer to the market a significant DP2 capability combined with a large intake capacity for offshore supply and delivery. The intake will be four to five times higher than current supply vessels can achieve. This investment was prompted by the pipe supply market, with which we have worked with for many years, so the views for future development initiated the decision to order the vessel. These vessels are also very suitable for smaller offshore installation works.
---
Newbuild Snapshot: DP2 B-Types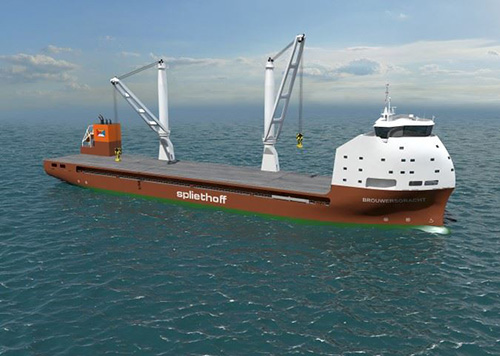 This state-of-the-art ship combines the intake of a multi-purpose vessel with a DP2, station-keeping ability of up to Bft 6, making it ideal for supplying large volumes and heavy cargo directly offshore. To obtain the fast, safe and efficient loading and discharge of pipes, both on and offshore, the vessel has a removable, automated, pipe-handling gantry crane installed.
The B-Type is also equipped with two Huisman 500-tonne heavy lift mast cranes, making her suitable for both heavy lift transportation and offshore installation. To fit in with Spliethoff's continuous drive for greener operations, the vessel design is fuel-efficient and the propulsion and power generation systems are equipped with scrubbers and SCR systems.
With 12,500-tonne deadweight, an open top notation, more than 2,875 m2 of cargo deck space, two tween deck levels and 5,700 m2 of total deck space, the intake of the B-Type is significantly higher than existing offshore supply vessels. Spliethoff's two B-Type vessels are expected to be delivered in the autumn of 2021 – the year Spliethoff will be celebrating its centenary!
---
| | |
| --- | --- |
| | READ MORE FROM THE PREVIEW |